There are several reasons for remembering the year 1917.  It was, of course, the third full year of the First World War and matters didn't seem to be going well for anyone: there'd been the huge loss of life in the mud at Passchendaele and Russia had collapsed into revolution, for example.  Meanwhile, in the July sunshine in a village just outside Bradford, two girls messing around with a camera staged some fairy photos for a private joke- but saw matters spiral out of their control.  The Cottingley fairies are world famous now; strangely, though, we have almost entirely forgotten the second collection of fairy photographs published in November of that year.
Finding a Fairy is a children's book written by nature photographer and artist Carine Cadby and illustrated with thirty one photographs by her husband, Will Cadby- who was also a professional photographer.  The pair often worked together on artistic projects: they illustrated the 1920 edition of Walter de la Mere's A Child's Day with two line drawings and a series of photos of a little girl.  Carine and Will had already written Dogs and Doggerel (1902) and The Doll's Day (1915), which had been illustrated with photos of the same girl seen in Finding a Fairy, but with dolls that were unashamedly dolls; they followed these up with Puppies and Kittens (1918), Topsy and Turvy- a Book of Holidays (about a dog and a kitten- 1919) and The Brownies in Switzerland (1923), which is sadly not about skiing fairies but concerns some young Girl Guides on holiday in the snow.  All these titles indicate the Cadby's style and market: light-hearted, illustrated fiction for young children, with an emphasis on cuddly animals.
The Cadbys lived on the edge of Platt Woods in Sussex, which were the scene for the illustrations for the book.  As well as using local scenery, they employed local people in the pictures.  The little girl 'Eve' who is heroine of the story was Pernel Wilson, daughter of a local architect and craftsman.  Her older brother posed as the young male in the pictures and the Cadby's dog also appeared.  It's all gently evocative of a rural lifestyle long since passed and none of it is meant very seriously.  For example, Eve/ Pernel has managed to climb into a tree in one of her best frocks and wearing a highly impractical but stylish pair of sandals with a heel…
The book was published by Mills and Boon, a company still in business today but now irretrievably associated with a certain style of romantic fiction aimed at women.  In 1917, the story was greeted as a charming fantasy enlivened by equally attractive photographs.  Mills and Boon themselves described it as "a pleasant tale of a little girl who lived near a wood in which all sorts of pretty and wonderful things happened. The story is illustrated with photographs by Mr Will Cadby, who has been wonderfully successful in catching not only the grace of children, but bird life and the beauty of woodland scenery." The woods are indeed attractive- the birds look like what they are- stuffed.  This quibble aside, their publicity aimed the book squarely at the "thousands" of children who had already enjoyed The Doll's Day.
The story of Finding a Fairy can be told quite quickly: the book is only 54 pages long.  Eve is a little girl of nine living with her grandfather, her aunt and their maid, Simmie.  Her mother and father are away on the other side of the world, we're told.  She lives next to a wood and spends a lot of time playing there, making up fairy stories.  She believes wholeheartedly in the existence of fairies and her greatest wish is to meet one.
"She thought she knew exactly how they would look and exactly how they would be dressed.  Of course, they would be tiny, smaller than most dolls, and their little frocks would be made of cobwebs trimmed with dew-drops.  Their hair would be long and wavy, crowned with wreaths of the tiniest roses you ever saw" (pp.2-3).
Eve longs to meet a fairy to be able to ask it all the questions that fill her mind: what do they do when it rains; do they have toothbrushes; do they quarrel and what are their favourite birds?
In that very same wood lives a wood-fairy who wants to make friends with a little human girl.  Most fairies don't bother much with people- especially not little girls, who are in bed when the fairies are out in the middle of the night- but this fairy wanted to meet someone different.  However, she feared the Fairy Queen would disapprove of the idea.  The fairy plays with the squirrels, rabbits and birds in the wood, but they are scared of people.  Her most promising friend is a dog, who looks after a number of people, including one nice little girl whom he promises to bring to see the fae.
The fairy is delighted to hear from the Fairy Queen that she is allowed to befriend a human child.  However, three conditions are imposed: the girl must be under ten, she must be 'nice' and she must believe in fairies.  The fairy knows that Eve satisfies these criteria: Tip the dog has said how nice she is and, one day, the fairy saw Eve telling a playmate Stella that the toadstools in a fairy ring were the fairies' chairs, so she knows too that she is a believer.
The next day, Eve gets up early and, as it's such a sunny day, she hurries to the wood to play, where she dances and sings until she's tired out.  She lies down to sleep under a tree and is awoken by singing.  Her heart gives a thump when she sees a real fairy beside her "a beautiful little being wearing a gossamer dress and a wreath of tiny roses round her head" (p.22)  She doesn't have a name ("we are just what you call us") so Eve names her Marigold and they sit and talk.  The little girl is amazed to learn that the fairy can understand all the creatures in the wood, from the birds to the bumble-bees, who fly around grumbling about their work.  Marigold promises to bring her wand the next time they meet and to touch Eve's lips and ears so that she can understand the creatures too.
After a few days, the pair meet again and Marigold touches Eve with the wand, so that "Until the sun goes down on your tenth birthday, you shall be one of us and understand our language" (p.33) .  They then have a party with the woodland birds, the woodpecker, raven, magpie and kestrel; Eve wishes first she could fly like them- then she wishes she were a fairy.  Marigold promises to ask the Fairy Queen if this can be allowed; the raven warns against it, because Eve would have to leave those she loves, her friends and family, whilst fairies "have no hearts at all" (p.38)
The following day, after a shower of rain, Eve searches for Marigold in the wood and finds her in a sort of nest of bracken where she has sheltered from the downpour.  The Fairy Queen has decreed that Eve can indeed become a fairy, provided that she follows a strict procedure: she must watch the moon until it is full and fast for three days.  At the end of this, she must sneak out of her house at night and come to meet the fairies in the wood.  Eve isn't too keen on the sound of this: she fears being very hungry- but the fairy knows nothing about hunger- and she worries about getting into trouble with her aunt and grandfather- but, as Marigold points out, once she has become a fairy, she won't have aunts or parents.  Eve starts to feel doubtful about the idea.
Meanwhile, the maid Simmie has lost a ring that her sailor boyfriend has given her.  Eve wants to help find it and knows that, as a fairy, she could do this.  However, she also learns that her mother and father are on their way home to join her, so she decides to stay as a girl and just have a fairy as a friend- one who can hopefully locate the missing ring.
Eve asks Marigold to assist, but again she struggles to comprehend Simmie's worry and unhappiness: "fairies' hearts are not made of stuff that gets fond of people" she explains (p.44).  Nonetheless, she discovers that the magpie stole the ring and Eve manages to persuade him to return it.  She tells him she'll always be grateful- a promise he doubts.  The reason for this is that the next day is Eve's tenth birthday and her best present will be the reunion with her parents.
The following day, just before she goes to the station to meet her mum, Eve sees Marigold for the last time in the wood.  The little fae tells her human friend that the fairy law is that, having turned ten, she must be made to forget that she ever met a fairy.  Eve begs her not to cast the spell because she doesn't want to lose all recollection of her amazing friend.  Marigold agrees not to "blow cobwebs across her face" but warns that, even so, the memory will fade steadily until it seems just like a dream.  Eve accepts this, they kiss and they part.
When, later that day, she is cuddled by her mother again, Eve is glad that she chose to stay as a real flesh and blood girl who can love her mummy.
"Eyes of youth are strong and bold,
They a fairy may behold,
If they are not ten years old;
But when the birthday ten draws nigh,
Fairies have to say 'goodbye.'"
What I find attractive about the story is that fact that, although it is clearly a children's book, it is far from sentimental.  Carine Cadby is faithful to the folklore in making the fairies quite heartless (or amoral) and unable to identify with human emotions.  For all her doll-like prettiness, 'Marigold' is quite self-centred and un-empathetic.  Cadby doesn't hide this from her readership.  I'm put in mind of the Welsh story in which the fairy wife cries at a wedding and laughs at a funeral; Marigold the wood fairy is similarly devoid of the conventions of human social interactions.
That said, Finding a Fairy must have met a need and found an enthusiastic readership.  It was reprinted twice, in 1918 and in 1919, and, as we have seen, Carine Cadby felt it was worthwhile writing more children's books- indicating that her royalties must have been enough to encourage her and her husband to spend more time on similar projects.
As stated, publication coincided with the first disclosure of the Cottingley pictures, but it will be very clear that the Cadbys had no pretensions to supernatural revelation.  Their shots don't try to look like anything other than a girl in a wood with a doll, but the parallels with the famous images are intriguing nevertheless.  They confirm the abiding interest in fairies and, perhaps, a wish to make them feel nearer and more real at that point in time.  Certain fundamental assumptions were shared too: that the faes would reveal themselves to a child (especially a girl), that they would be found in woodland and that they would be small.  What's more, both at Cottingley and at Platt, the fairies dressed in versions of everyday Edwardian women's wear.
The conjunction of tiny, doll-like fairies and woodland scenes reappeared fifty years later in the notorious pictures of some Cornish witches that are well known from Janet Bord's Fairies.  The girl in this instance has lost her clothes in the excitement of discovery, and the figures are smaller, but there's a shared inspiration as well as a comparable stiffness and lifelessness in the apparitions of the Good Folk.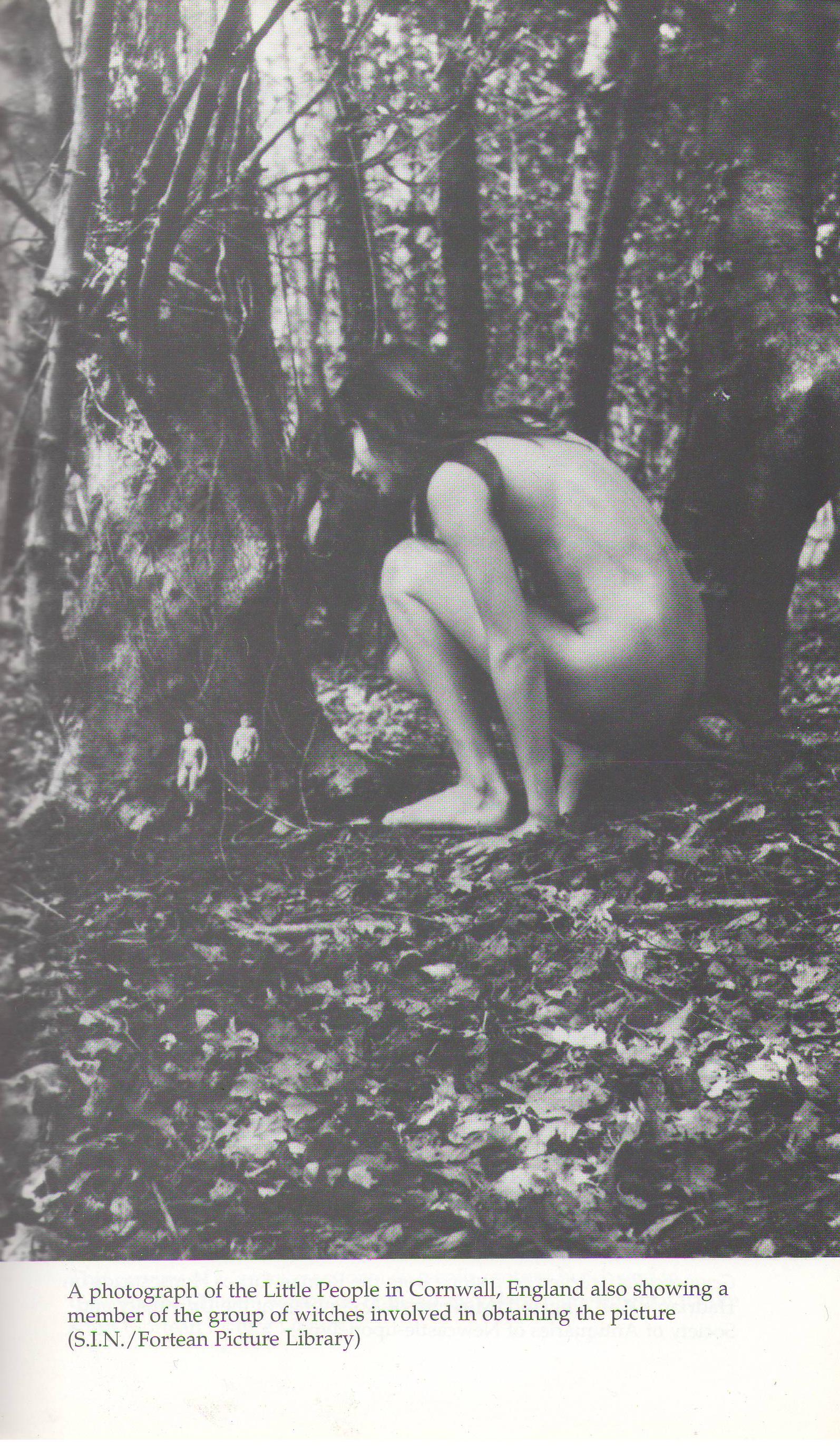 Further Reading
The Platt village memorial hall has an excellent website with more details about the making of the book and about the life and history of this Sussex village as well.  See too my previous posting and page that examines the impact of the Cottingley photographs upon our faery iconography.
The inter-relationship between the Great War and the desire to believe in and see fairies is one I have addressed in a number of postings in which have looked at both the visual and literary responses to this impulse.  As I have described, works as disparate as orchestral music, poetry,  The Lord of the Rings, opera and Finding a Fairy were the result of that need for comfort and help.