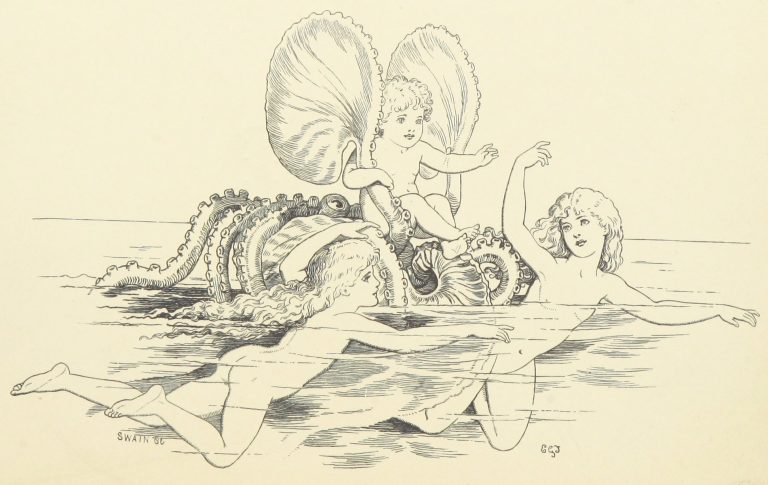 In an earlier post, I discussed famous the youthful writings on pixies by Lewis Carroll, author of the 'Alice' stories. Carroll is not really a writer of 'fairy tales,' however strange and fantastical his books may have been, but he did not neglect them entirely.
Firstly, there is his follow-up to the Alice stories, Sylvie and Bruno (1889). This book is far less well-known than the two Alice adventures- and for good reason, as it really isn't that good. However, it gives a very good idea of the image of fairies that Carroll harboured. His view of the Good Folk can be both sentimental- and yet cautious and honest. For example, from chapter 13: "All Fairies understand Doggee- that is, Dog-language" or, this lengthy passage from chapter 14:
"In the first place, I want to know—dear Child who reads this!—why Fairies should always be teaching us to do our duty, and lecturing us when we go wrong, and we should never teach them anything? You can't mean to say that Fairies are never greedy, or selfish, or cross, or deceitful, because that would be nonsense, you know. Well then, don't you think they might be all the better for a little lecturing and punishing now and then?

I really don't see why it shouldn't be tried, and I'm almost sure that, if you could only catch a Fairy, and put it in the corner, and give it nothing but bread and water for a day or two, you'd find it quite an improved character- it would take down its conceit a little, at all events.

The next question is, what is the best time for seeing Fairies? I believe I can tell you all about that.

The first rule is, that it must be a very hot day- that we may consider as settled: and you must be just a little sleepy- but not too sleepy to keep your eyes open, mind. Well, and you ought to feel a little- what one may call "fairyish"- the Scotch call it "eerie," and perhaps that's a prettier word; if you don't know what it means, I'm afraid I can hardly explain it; you must wait till you meet a Fairy, and then you'll know.

And the last rule is, that the crickets should not be chirping… I looked about in all directions for the little creature, but there was no trace of her- and my 'eerie' feeling was quite gone off, and the crickets were chirping again merrily- so I knew she was really gone. And now I've got time to tell you the rule about the crickets. They always leave off chirping when a Fairy goes by- because a Fairy's a kind of queen over them, I suppose- at all events it's a much grander thing than a cricket- so whenever you're walking out, and the crickets suddenly leave off chirping, you may be sure that they see a Fairy."

Sylvie & Bruno, c.14
On the more positive side, Carroll describes how Sylvie changes from a little girl into a fairy and he states categorically "I may tell you, besides, that she had no wings (I don't believe in Fairies with wings), and that she had quantities of long brown hair and large earnest brown eyes, and then I shall have done all I can to give you an idea of her."
Carroll's collection of verse, Three Sunsets and Other Poems, which was published ten years later than Sylvie and Bruno in 1898, includes two poems on a clear fae theme: Puck Lost and Puck Found:
Puck Lost

Puck has fled the haunts of men:
Ridicule has made him wary:
In the woods, and down the glen,
No one meets a Fairy!

"Cream!" the greedy Goblin cries—
Empties the deserted dairy—
Steals the spoons, and off he flies.
Still we seek our Fairy!

Ah! What form is entering?
Lovelit eyes and laughter airy!
Is not this a better thing,
Child, whose visit thus I sing,
Even than a Fairy?

Nov. 22, 1891.
Puck Found

Puck has ventured back agen:
Ridicule no more affrights him:
In the very haunts of men
Newer sport delights him.

Capering lightly to and fro,
Ever frolicking and funning—
"Crack!" the mimic pistols go!
Hark! The noise is stunning!

All too soon will Childhood gay
Realise Life's sober sadness.
Let's be merry while we may,
Innocent and happy Fay!
Elves were made for gladness!

Nov. 25, 1891.
The illustrations for Three Sunsets were provided by Emily Gertrude Thomson. She had illustrated William Allingham's famous verse 'The Fairies' in 1878 and Carroll had so admired her wrote that he wrote to the publisher asking for her address.  The two met for the first time in June 1879 at the South Kensington Museum (now the V&A). Their rendezvous was fascinating: Carroll arrived holding the hands of two little girls. He asked one to point out Thomson and she quickly indicated the artist, though none had met before. Carroll's explanation of this was that he asked the child to identify the "young lady who knew fairies…"
Carroll was a difficult author to work for. He constantly intervened in his artists' work, making suggestions and asking for alterations to completed drawings.  The writer had very fixed and peculiar ideals of beauty.  For example, he stipulated that all the fairies, and all the babies, in Thomson's pictures should be girls, adding that he much preferred nude girls, although "no living child is perfect in form." Thomson duly supplied for the book a series of twelve plates of very pleasingly pretty and shapely little girls, reclining nude beneath ferns, flowers and mushrooms. They have very little to do with the content of the book, but they are attractive pictures and- perhaps most importantly- they met the aesthetic and personal standards of Lewis Carroll, who was (as is known) a keen collector of little girls as his 'nieces.'