Over his long career, renowned British artist Peter Blake has drawn his inspiration from a variety of sources, including the wrestling he loved as a youth, fifties pinups magazines and, more surprisingly, perhaps,  Victorian fairy painting.  In his many fairy paintings, he has demonstrated that 'high art' and fairy themes can still co-exist, even in the twenty-first century (and despite some later embarrassment about this on Blake's part).
Victorian inspirations
During the mid-1970s, Blake's work took a surprising turn away from his early urban and contemporary themes.  In March 1975 in Somerset a group of British born and British based artists founded the Brotherhood of Ruralists.  The new movement was inspired by Samuel Palmer, Spenser and the Pre-Raphaelite Brotherhood, amongst others, and its declared aims were to portray love, beauty, joy and magic in their work.  Amongst the Brotherhood were Blake, David Inshaw, and Graham Ovenden, a painter and expert in Victorian photography, painting and illustration, whose publications include a study of fairy illustrators Richard Doyle, Eleanor Vere Boyle and William Stephens Coleman.
Peter Blake was especially inspired by literary subjects, such as Lewis Carroll's Alice in Wonderland and Midsummer Night's Dream.  Fairies in particular became a key theme during his ruralist period and Blake researched the work of Victorian predecessors, painters such as Richard Dadd, Doyle and John Anster Fitzgerald and illustrators Maxfield Parrish and Arthur Rackham.  He admired the eroticism of much of this fairy art, most notably in the work of Paton and Simmons.  At the same time Blake saw children and fairies as sharing an enchanting naivety, which was translated into the nature of his pictures. He was, too, interested in fantasy, but he wanted his fairies to be real people rooted in the present.
Blake has painted a series of portraits of generic flower, water and seaweed fairies (mainly as a source of income), but he also undertook much larger and more personal studies of groups and of named individuals such as Titania and Puck.  One of the first of this series of paintings, Puck, Peaseblossom, Cobweb, Moth and Mustardseed, which was started in 1969, shows a naked boy Puck along with tinier, winged child-fairies.  They seem to be beside a weed covered pond, in which the full moon is reflected, and in the background is a stretch of suburban garden fence.
Interviewing Blake for the Independent newspaper in December 1997, Andrew Lambirth described the fairies in these terms:
"If not children, they tend to be female, either portrait heads or nearly naked, and extravagantly breasted.  There is a lambent sensuality in these images, an edginess not far from surrealist frisson, yet verging on innocence rather than lubriciousness.  Delicacy of tone and useful juvenescence of imagery is matched by meditative distancing.  Peter Blake's paintings are as oddly disquieting as the best Victorian fairy paintings."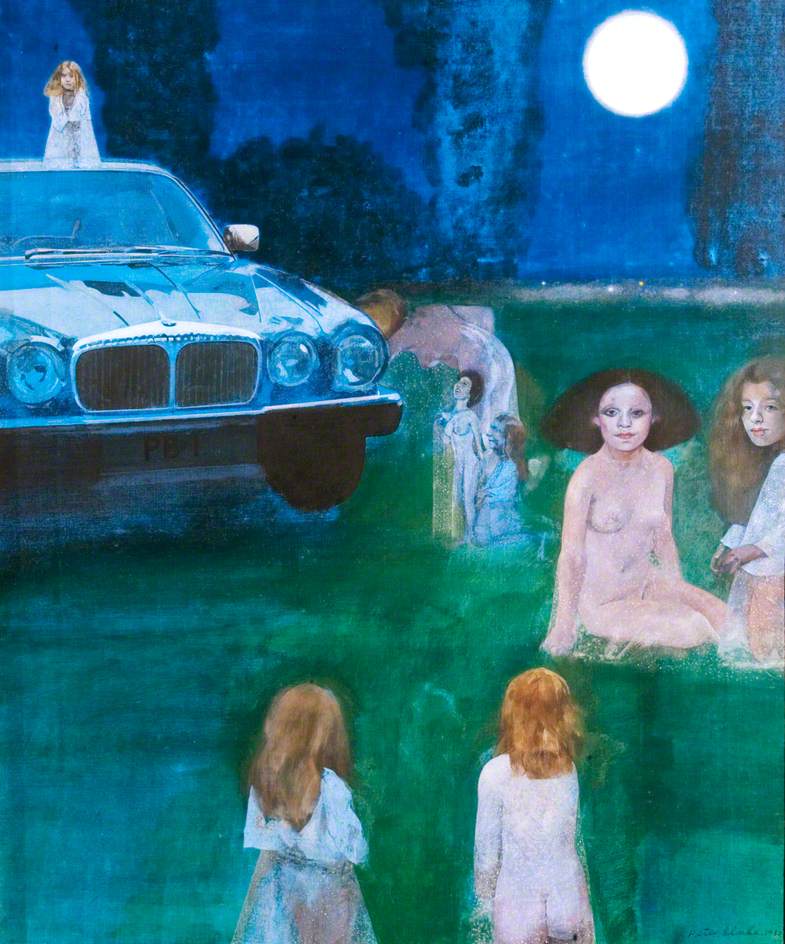 Blake explained during this interview that he wanted his pictures to balance otherness with here and now solidity.  He described how:
"As the fairies ooze to the front of the picture, they hear who's looking at the painting and they stop and look out.  A group of them stare straight out at you, involving the viewer."
In part Blake's paintings were a reaction against the 'gift-shop', coffee table depictions of faery that flourished during the mid-1970s.  He wanted to produce more substantial and serious images, he said:
"Fairies are a vehicle for what we want them to be.  If you want a concept of a naughty fairy, you can read it in.  The beautiful fairies tend to be good, I think.  There's an edge of magic realism to them.  The fairies I paint have the ability to make magic."
Peter Blake's fairy pictures depict the possibility of encountering the fantastic in our everyday lives.  He endeavoured to devise a believable other world.  He graded his fairies by their size rather than by their wealth and tried to imagine how the queen of the fairies might feel and act; what would fairy morality be like?  Unlike humans, they might not cover their bodies up but might choose to emphasise and display them.  Accordingly, Titania (in one of the several versions painted between 1976 and 1983) is shown largely naked with grass knotted around her nipples and her pubic hair decorated with daisies.  She wears boots of dock leaves, a grass necklace and a grass belt adorned with odd found items such as a spark plug and a lost toy.  She faces the viewer frankly and confrontationally.  Surrounding her are shadowy figures of naked females, some grinning, some perhaps in pain or in the throes of ecstasy (similar shapes are found with Puck in the painting described earlier).  Natalie Rudd has written that
"Titania marks a new model in Blake's canon of fairy painting; she does not embody the childlike asexuality of his earlier fairies.  Like the nymphs in classical mythology and Blake's urban strippers, she is a figment of male fantasy, poised eternally between innocence and desire, childhood and womanhood, apparently available yet essentially out of reach." (N. Rudd, Peter Blake, Tate Gallery, 2003, p.67)
Critic Nicholas Usherwood has spoken of Titania's "disturbing eroticism, banishing any trace of whimsicality."  Serena Davies, writing in the Daily Telegraph, reacted very differently, calling the fairy images "strident, ugly pictures that still fail to charm to day." (Telegraph, July 7th 2007)
In other pictures that Blake produced during this period, fairies dance and play at night in the open air, in one case around and upon a car (Nymphs and Daimler).  Another, The death of a moth, shows the fairy girls mourning the deceased insect.  Many of his fays, like queen Titania, are imagined wearing floral decorations.  All of these pictures emphasise the fairies' intimate connection with nature, even amidst the detritus of human culture.  Blake has said of these that "in a curious way, the fairy pictures are far more knowing than the Alice pictures [his illustrations to Alice through the looking glass, 1970].  The fairies again come back to being part of my travelling company- they could as easily be strippers.  They look urban." (Rudd, p.73)
Generally, though, I do not believe that it was Blake's intention in his fairy images to evoke strippers or to examine the nature of fairy sexuality.  His vision of Faery draws upon that of Midsummer Night's Dream and upon contemporary productions of that play: there is a great deal of natural innocence in the pictures.  His nudes, such as Fairy girl in Falmouth Art Gallery, suggest naturism rather than eroticism; there is an unashamed 'tribal' quality to the nakedness that is not intended to titivate but to depict a unity with the fairies' (semi) rural surroundings.  They are open and honest; they are as they were born and unaware of any reason for shame or concealment.  There is also an accommodation with the spread of human material culture; artifacts are collected and reused in unexpected ways. Blake is enjoying a joke here as well as commenting upon pollution and destruction of habitats.
The Ruralists (along with Blake's marriage) disintegrated in the early 1980s and Blake moved back to London, admitting that he had never stopped being an urbanist.  The Ruralist influence remained, though, as shown by a picture from 1982 portraying a fairy at the bottom of his garden in Chiswick.  More recently Blake has described his fairy phase as "unforgivably sentimental."  The art critic Waldemar Januszczak was less kind; for him they were "unforgivably silly" when set against the political background of late 1970s Britain (Review of Tate Liverpool retrospective, July 1st 2007).  How we feel about this remark depends upon whether we feel that all art must provide explicit social commentary.  As I suggested in the last paragraph, there is commentary here, but it is more subtle.
Young British Artists
Arguably Blake's fairy pictures were not disengaged from contemporary environmental concerns.  Some of the issues he tackled are still being examined today.  'Young British artist' Matt Collishaw much more recently produced a series of photographic images called Sugar and spice which deliberately contrast young girls dressed as fairies and bedecked with flowers posed in scrap yards and surrounded by urban litter which dwarfs them- discarded drinks cans and cartons, a banana skin and a lost shoe.  The gritty squalor of the settings cancels out any saccharine prettiness in the models.
Further Reading
For further discussion of the centuries' art, see my book Fairy Art of the Twentieth Century